Last updated on September 17th, 2023 at 11:01 pm
Is a visit to the capital of Australia on your radar? Well you are in luck. I have been on a road trip to Canberra a few times during my life in Australia. I've been with my family on holiday, on a school trip to learn about Australia's parliament and on quite a few weekend road trips to Canberra. I love visiting Canberra as it is an interesting city, is easy to get around and has plenty to see and do. So if you are heading for a few days or a week in Canberra is my best Canberra 5 day itinerary.
A Brief History of Canberra
In the 1800s European explorers arrived in the Canberra area and in 1824 came the first European settlers who mostly claimed land and farmed it. The year 1901 saw the Australian colonies form the Commonwealth of Australia. At this time it was decided that a new capital of Australia was needed. Both Sydney and Melbourne wanted the honour, but it was decided the new capital should be built in Canberra. Mainly because it was already settled and was good land for building a city on. In 1908 a competition was held to find a designer to design the city. 1912 saw an American architect, Walter Burley Griffin (1876-1937) winning the competition and Canberra was begun. 
I acknowledge that for thousands of years the indigenous Ngunnawal people lived in the Canberra area. It's believed the name 'Canberra' is derived from the indigenous meaning 'meeting place'. This is very apt as it is the meeting place of all the politicians who represent Australia.
Where is Canberra?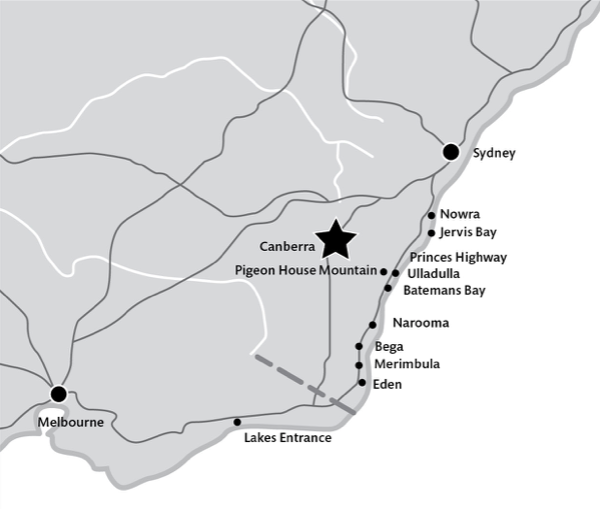 The star on the map marks the spot of the location in Australia of Canberra. Canberra is found in the Australian Capital Territory (ACT) which is in the state of New South Wales (NSW).
How to Get to Canberra
Depending on where you are coming from there are a number of ways to get to Canberra. Canberra has an airport so you can fly from the major capital cities and other smaller towns with an airport to Canberra Airport. Many drive to Canberra. It is linked by a number of roads. It is about a 3 hour drive from Sydney or 8 hours from Melbourne along the Hume Freeway that links Sydney and Melbourne and then along The Federal Highway. Canberra is also about a 2 hour drive up the Kings Highway from Batemans Bay on Australia's east coast. There are also a number of smaller country roads linking Canberra from other towns. There is also a train service from Sydney's Central Station to Kingston Station in Canberra. Get details and to book your train ride at TransportNSW.
Where to Stay in Canberra
Canberra has loads of styles of accommodation to suit different budgets. There are a number of hostels, hotels, apartments and camp sites to stay at. All are in easy reach by local public transport to the major attractions in Canberra.
Budget option: Caravan Parks and Camping Grounds in Canberra
There are a couple of caravan parks and camping grounds not too far from the centre of Canberra. They are Southside Village about 7km from the CBD and Alivo Tourist Park about 3km from the CBD.
Budget option: Hostels in Canberra
Hostels have long provided cheap and comfortable accommodation. Canberra has a few of them including the Canberra City YHA which is conveniently located on .3km from the city centre.
Budget to Expensive priced Hotels and Motels in Canberra
Hotels and motels are plentiful in Canberra. Some great deals can be found in the following which range from budget to expensive. They include but are not limited to: Mercure Canberra, Best Western Garden City, Mantra on Northbourne, Crowne Plaza, Hyatt Hotel and Rydges Capital Hill to name a few.
Self-catering apartments in Canberra
As this itinerary is for 5 days staying in an apartment which offers a kitchenette so you can cook your own food is ideal. Some centrally located apartments include Adina Serviced Apartments which are only 2.1km from the centre of town. Also Quest Canberra City Walk only .4km from the centre and the Citystyle Executive Apartments only .3km from the centre of town.
Once in a life-time great experience
Fancy sleeping with a tiger or feeding a giraffe from your balcony while staying in luxurious accommodation? Then the Jamala Wildlife Lodge might be an option for you. Check out their accommodation options here.
Best Time to Visit Canberra
As with most cities, any time is a good time to visit Canberra it just depends on the type of weather you like to explore in. Summers can be hot and dry while winters bitterly cold. No matter what weather, attractions in Canberra are open. There also maybe some events you want to attend such as Floriade the annual flower show in September.
How Long to Spend in Canberra
Canberra has a lot of things to see and do and even though many drive to Canberra for a weekend, if it is your first trip to Canberra I suggest a stay of at least 5 to 7 days. This will give you enough time for exploring in and around Canberra.
How to Get around Canberra
Easy to get around Canberra on the Loop Bus
Canberra is an easy city to get around. It has a local bus service, bike hire and car rental. I found Canberra easy to get around by car. The roads weren't too busy, they were easy to navigate and there was plenty of parking, though not always free. If you don't have your own vehicle I suggest you rent one. For types of vehicles and to compare their prices click here. 
Another option is to take the free Culture Loop Shuttle Bus. This free bus will take you to some of Canberra's best attractions so if you haven't hired a car to get around I would definitely take advantage of the Culture Loop. Stops include Parliament House, Museum of Australian Democracy, National Library, Questacon, National Museum, National Capital Exhibition, Visitors Centre, National Film and Sound Archive, Canberra Museum and Gallery and the Canberra Centre. 
If you don't have your own car to explore Canberra with there are buses and a light rail service to get your around. To use these services you will need a MyWay card. Get details of this card and to plan your journey on public transport at Transport Canberra. On my latest trip to Canberra I noticed lots of scooters being left on street corners. To use these scooters there are instructions on the stork under the handle bars. Instructions advise you to download the Neuron App and follow the instructions to hire a scooter.
Canberra 5 Day Itinerary at a Glance
Days
1 – Mount Ainslie & Australian War Memorial
2 – Parliament House and Old Parliament House
3 – Drive around ANU, See Embassies and shop at Civi.
4 – AIS (Australian Institute of Sport), Telstra Tower at Black Mountain & National Arboretum
5 – A day of Museums
Note: You can mix and match these days as there are plenty of things to do at Canberra.
Day 1 – Mount Ainslie & Australian War Memorial
Mount Ainslie Lookout
Get great views over Canberra from Mount Ainslie lookout
First stop on this 5-7 day itinerary or Canberra is to the Mount Ainslie Lookout. This is a great place to start your visit to Canberra as you will be treated to a panoramic view over Canberra. Not matter the weather, the view is impressive. I think starting your day at Mountain Ainslie will give you your bearings of where things are in Canberra. You can see over Canberra with views of Lake Burley Griffin and Parliament House clear highlights. Even though I suggest visiting Mount Ainslie first, you can visit this lookout anytime. Some people take a picnic up there to watch the sunset over Canberra.
Mount Ainslie Nature Reserve is free to visit and can be accessed from Fairbairn Avenue. Just follow the drive that ascends to the summit of Mount Ainslie where you will find free parking. Some people like to walk to the top and there are a number of trails to get you there. The main trail to the top of Mount Ainslie starts in the Remembrance Nature Park behind the Australian War Memorial, which is our next stop on this one week in Canberra.
Australian War Memorial
After the great views over Canberra at Mount Ainslie head down the mountain to spend the rest of the day Day 2 at The National War Museum. I suggest budgeting to stay the whole day because it is very interesting with lots to see and to learn – well I think so, but I do love history! Due to massive renovations happening at the war memorial visits are allocated in 2 hour slots. Now 2 hours isn't enough to see all the exhibits so I suggest you book a 2 hour slot in the morning, then head to Poppy's Restaurant for lunch, then book another 2 hour slot for the afternoon that leads to another booking for the last Post which happens every day at 4.30pm.
Currently the Australian War Memorial has knocked down the aircraft hall which it is rebuilding, bigger and better. There are a couple of planes on display. On entering the areas to visit at the Australian War Memorial include:
Victoria Cross Area – See and read about all the soldiers who received the highest honour – the Victoria Cross
Explore the exhibits in the WWI room – learn about the different battles of WWI
Explore the exhibits in the WWII room – learn about the different battles of WWII
See the limited exhibits of current conflicts – this will be expanded once building works completed
Walk along the honour roll in the commemorative garden and place a poppy.
Throw a coin in the remembrance pool and visit the unknown soldier. Get great views of Parliament House from here in the distance.
Eat at Poppy's and enjoy a great meal such as my 'Afghan Plate'.
Place a Poppy along the Roll of Honour Wall
See the exhibits in the WWI room
Afghan Plate – my lunch at Poppy's
The Australian War Memorial is one of my favourite places to visit in Canberra and it is one of the best free things to do in Canberra. I can spend hours there just walking around – and I have many times. You will find it at:
Treloar Crescent, Campbell ACT 2612 – follow the signs for car parking.
It is open daily from with the Galleries open from 10 am to 4 pm daily (closed Christmas Day). If wanting to see the Last Post Ceremony entry is at 4.20pm with the Ceremony commencing at 4.45 pm.
Plan your visit and book your tickets to the Australian War Memorial here.
Day 2 – Parliament House & Old Parliament House
Parliament House
Start day 2 on this Canberra holiday at Parliament House. Sitting on Capitol Hill is new Parliament House and you cannot miss this building which is a symbolic piece of architecture. It was officially opened on 9 May 1988 by Elizabeth II, Queen of Australia. Its principal structure is based on the shape of two boomerangs. These are topped with two axes. North-south and east-west and by an 81 metre high flagpole which is a lightning magnet if ever I saw one.
If you think the outside is impressive wait till you get inside. The building contains 4,700 rooms with many of them open to the public. Once you get through security you are free to explore large sections of the building and watch parliament in action. The main foyer is impressive with its marble staircase and leads you straight to the Great Hall with a large tapestry on display. You can visit both the debating chambers of The House of Representatives, decorated green and The Senate Chamber which has a red colour scheme, unless the politicians are sitting and then you can go into the public galleries to watch the proceedings. There are also the paintings of all the Prime Ministers to see and other smaller exhibits and information as you walk around.
Parliament House on a grey day
Tapestry in the Great Room
Parliament House on a fine day
After walking around Parliament House, take the lift up to the roof and walk on the lawns up there. And look up to the flagpole and out along the axes. You can get great views of the Australian War Memorial backed by Mount Ainslie. Maybe have a coffee or lunch in the restaurant – you never know which politician you might see!
Parliament House is free to visit. It is open daily from 9 am to 5 pm. The length of time will vary as to how long you stay there. A free tour can take around 25-30 minutes and must be booked in advance. You can walk around yourself but you won't learn the tidbits you might if you go on a tour.
Museum of Australian Democracy – Old Parliament House
A 10 minute walk or so from Parliament House is the Museum of Australian Democracy or Old Parliament House. This big white building was formerly known as the Provisional Parliament House. It was home to the Parliament of Australia from 1927 to 1988 and was built for parliament as an interim home while Parliament House was built. You can visit Old Parliament House which I highly recommend as today it houses the Museum of Australian Democracy. Basically you will find the history of Australian politics shown through interactive displays. Not into politics? Sound boring! The Museum of Australian Democracy is free to visit. You can plan your visit here.
Besides the history you can visit the different rooms inside the building including the House of Representatives and the Senate which are off the Kings Hall. Plus there are meeting rooms, press room and the Prime Minister's Suite. There is even dress ups for the kids which mine enjoyed. You can also stand on the steps outside which was the scene of the famous speech by Gough Whitlam after he had been sacked as Prime Minister.
I object to the Senate's decision!
Day 3 – ANU, High Commissions/Embassies & Civic Shopping
This morning drive around the Australian National University (ANU). You don't have to do this but I found it fun. See the different departments of the university. Then onto the suburb of Yarralumla which is home to nearly 80 embassies and high commissions of different world countries. You will be treated to traditional and modern architecture from many countries. See the spectacular traditional design of the Chinese Embassy and the long-house style of the High Commission of Papua New Guinea. Look for the Mexican Embassy's giant shingle roof and the United States Embassy built in a modified Georgian style. The traditional Cape Dutch style architecture of the South Africa High Commission contrasts with the striking design of the Thai Embassy Royal. See how many countries you can name! Watch out for the security guards – they will be watching you!
Ready for something to eat? Head to Civic which is the centre of Canberra and the shopping precinct. Grab a bite to eat at a food hall or try a cafe or restaurant. Walk around the shops for some Canberra retail therapy. Perhaps end the day in one of the bars, pubs or restaurants before heading back to your accommodation.
Day 4 – AIS, GIO Stadium, Black Mountain & National Arboretum Canberra
AIS (Australian Institute of Sport)
Day 4 on my Canberra 5 day itinerary is for sport lovers who will enjoy a visit to the Australian Institute of Sport (AIS). It was opened in 1981 and is situated on a 66 hectare site providing athletes who come to train there with state of the art facilities. I highly recommend you go on one of the 90-minute AIS tours which are led by the athletes themselves who are training at the institute – I wonder who you will get! As you walk around the different areas of sport and see the high-performance facilities up close. The gyms, the pools, the badminton courts where you might see some of Australia's best athletes and possibly some international ones too. You can also participate in some of the interactive displays such as testing your stamina on a road bike.
I'm sure you will be hungry by now so you could have lunch at the AIS coffee shop.
Test your stamina at the AIS
You can visit the AIS in the suburb of Bruce and walk around yourself but a guided public tours depart daily from the AIS Visitor Centre. Tour times are 10 am, 11:30 am, 1 pm and 2:30 pm. They take around 90 minutes and an adult ticket currently costs $20. Plan your visit and purchase your ticket to visit behind the scenes at the AIS here.
GIO Stadium
Adjacent to the AIS you will find the GIO Stadium. This Canberra Stadium is primarily used for rugby league and rugby union games and is the largest sports venue by capacity in Canberra. It is not open for tours.
Telstra Tower, Black Mountain
Overlooking Canberra is the Telstra Tower at Black Mountain. It is Canberra's iconic telecommunication tower rising 195.2 metres above the summit of Black Mountain on which it is built. You can visit Black Mountain and go up to the top of the Telstra Tower and maybe have a refreshment while experiencing 360 degree panoramic views of Canberra and its surrounding countryside. I spent most of my time enjoying a coffee and the views from the inside viewing deck however, there are two outdoor viewing platforms. I preferred to stay inside as the day I visited it was very cold and extremely windy.
National Arboretum
After enjoying the mountain delights of Black Mountain continue the theme with a visit to the National Arboretum Canberra. This place has won a silver medal in 2021 from the Australian Tourism Awards for being one of the best attractions in Australia. The National Arboretum Canberra has over 44,000 trees from 100 countries across the 250 hectare site. It is one of the largest living collections of rare, endangered and significant trees. Walk around and discover nature before enjoying a cuppa at the Village Centre.
Day 5 – A Day of Museums + Walk Around Lake Burley Griffin
Canberra has many museums with most being free. Take your pick:
The National Gallery of Australia, formerly the Australian National Gallery, is the national art museum of Australia. Home to some 166,000 works of art.
The National Museum of Australia preserves and interprets Australia's social history, key issues, people and events that have shaped the nation.
Questacon – The National Science and Technology Centre is a great family friendly favourite. It's an interactive science communication facility with more than 200 interactive exhibits related to science and technology – lots of fun if into science and technology.
The National Film and Sound Archive of Australia is Australia's audiovisual archive – super interesting for film and sound lovers!
Canberra Railway Museum. For all you train buffs, this museum is located next to Canberra Railway Station in Kingston.
The National Dinosaur Museum – who doesn't love a dinosaur! This is Australia's largest permanent display of prehistoric specimens with 23 complete skeletons and 300 fossils. Follow the exhibit timeline to discover the rise and fall of the dinosaurs. What fun!
Royal Australian Mint – where the money is made!
Walk around Lake Burley Griffin
Break up the day of Canberra museums with a walk around Lake Burley Griffin. The complete walk is 5km which will take around 2 hours to walk as you will probably stop at a number of the landmarks that are located along the shores. Lake Burley Griffin is an ornamental lake and was at the centre of Griffins' plan for Canberra. It was created by damming the Molonglo River and Scrivener Dam. Prime Minister Sir Robert Menzies officially inaugurated the lake on 17 October 1964.
Places to see on the Lake Burley Griffin walk include the National Capital Exhibition, Captain James Cook Memorial, Commonwealth Park, Citizenship Place, Pioneer Women Memorial, HMAS Canberra Memorial, National Carillon (stop to listen to the bells being played via a keyboard called a clavier) and National Workers Memorial to name a few.
Listen to the bells at the Clarillon
Extend Your Stay in Canberra to 6, 7 or more days
If 5 days in Canberra isn't enough, extend it as there are plenty more things to see and do in Canberra and it's surrounds. If you are looking to spend a week in Canberra or more, things to see and visit include:
Cockington Green. This is a miniature village that both young and old enjoy. Everything is a miniature – the castles, the trains, the people, the soccer pitch, the cricket green and even Stonehenge.
Walk amongst the miniatures at Cockington Green
Tidbinbilla is the Deep Space Communication Base. It is about an hour or so out of Canberra.
Bungendore is north of Canberra, you may have seen the sign to it on the Federal Highway. It is a little heritage town with old beautiful buildings. It's home to the Bungendore Wood Works Gallery where you could purchase some beautifully crafted wood items. Next door is the Cafe Wood Works where I indulged in a beautiful mid-morning Eggs Benny (Eggs Bennedict). Nearby are a number of cool climate wineries.
Discover Cool Climate Wineries for a fabulous selection of wines and great food. Check out Lake George Winery, Affleck Winery, Lark Hill Winery, Lerida Estate and Norton Road Wines to name a few. Check opening times of each as most cellar doors and restaurants are open Friday to Sunday. Great for a long weekend of wine tasting!
Are You Ready to Visit Canberra?
So there you have it, my Canberra 5 day itinerary to help you make the most of your time in Canberra and the ACT. Canberra is a vibrant, exciting and interesting city to visit and I hope you include it in your own travels around Australia. I'd love to hear your thoughts on your visit to Canberra in the comment section following.