Canberra ACT Travel Guide
How to Live Work and Play in Canberra ACT
The Australian Capital Territory (ACT) is home to Canberra, the capital of Australia. I have visited Canberra a number of times. First when I was a kid on a primary school excursion. Then, with my family on a family holiday to Canberra, and a number of times since. I've been lucky enough to have seen Canberra and the ACT change and grow over the years.
The Australian Capital Territory is a territory of Australia found in the state of New South Wales. It is the only land-locked Australian state or territory. The ACT was founded on 12 March 1913 and is home to Australia's Parliament. When you visit the ACT for a weekend or longer, definitely visit Parliament House standing high on Capital Hill. There is plenty more to see and do when visiting the ACT. When planning your Canberra visit include the 'old' Parliament House which is now a museum. Also, the Australian War Memorial, Australian Institute of Sport and Mount Ainslie Lookout.
There are also many museums and official buildings to visit. In the centre of the city is Lake Burley Griffin offering water sports or simply walk or run around its perimeter. If you enjoy food and wine there are plenty of cold climate wineries in the ACT to discover. Find more inspiration on visiting Canberra and the ACT in my Canberra ACT travel guide following. But first, some facts about the Australian Capital Territory.  
Canberra, ACT Facts:
Canberra is the capital of Australia and is found in the Australian Capital Territory (ACT).
Founded 12 March 1913.
Home of Australia's Parliament.
Canberra is often referred to as the 'Nation's Capital' or the 'Bush Capital'.
Canberra means 'Meeting Place'.
Around 400,000 people live in Canberra. A resident of Canberra is known as a 'Canberran'.
There are around 140 wineries – my kinda place!
Plenty of museums to visit, more than 20. My favourite is the Australian War Memorial.
Canberra was designed by American architect Walter Burley Griffin after he won a competition from 137 entries to design Canberra.
Lake Burley Griffin is named after him.
Where is Canberra and the ACT?
Look at my map – see where the star is – that is where Canberra is. It is about 290 km from Sydney.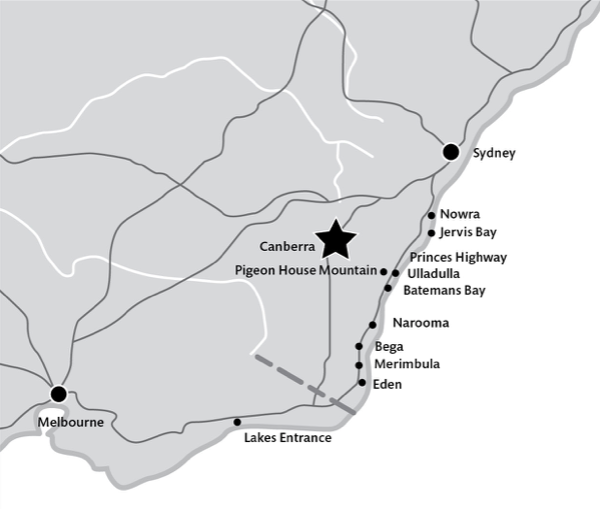 How to Get to Canberra ACT?
You can get to Canberra ACT a number of ways.
Fly into Canberra Airport.
Drive to Canberra ACT. It's about a 3 hour drive down the Hume Highway and Federal Highway from Sydney. And about a 2 hour drive along the Kings Highway from Batemans Bay.
If you like catching trains, there is a train service from Sydney to Canberra. It leaves from Sydney's Central Station 3 times a day and takes a couple of hours. You will arrive in Kingston, a suburb of Canberra.
Buses also leave Sydney's Central Station bound for Canberra.
Lastly, you could go on a tour. Check out Canberra tours here >>>.
How to Get around Canberra ACT
I have found the best way to get around Canberra is to drive as tourist highlight spots aren't in walking distance from each other. Free parking can be an issue so be prepared to pay for it. There is a good transport network of buses and light rail in Canberra. Visit Transport Canberra for details on how to get a MyWay card that allows you to hop-on and hop-off Canberra's public transport. This website also has maps of the different routes and plenty of information so you can travel around Canberra while on holiday. Canberra has introduced a scooter service. Simply download the Neuron App and follow the instructions to hire a scooter.
Where to Stay in Canberra
If you are traveling to Canberra in your own transport, then you can stay in any of the suburbs in and around Canberra. If you have no transport and are relying on public transport, the closer to the centre of the city the better. There is a range of different accommodation options. If towing a caravan van there are caravan parks on the outskirts of Canberra to stay at. Otherwise there are a number of hostels, hotels and apartments offering accommodation. I have stayed in a few different places with the latest being at the Ibis Styles Tall Tress in Ainslie which I found at the Booking.com booking website. If you are wanting to sleep with the animals, why not splurge on a night at Jamala Wildlife Lodge.
Best Places to Visit in Canberra and the ACT
Parliament House
Old Parliament House
Australian War Memorial
National Library
Questacon
National Museum
Mount Ainslie Lookout
Canberra Mint
National Film and Sound Archive
Canberra Museum and Gallery
Canberra Centre
Cockington Green Miniature English Village
Cool climate wineries
Walk around Lake Burley Griffin
— Latest Canberra ACT Travel Guide Inspiration —
Are you looking for a place to stay in Canberra that is centrally located and has all the amenities you need at a reasonable price? On a recent trip to Canberra I needed to choose where I was going to stay. I researched all Canberra accommodations for my recent trip...